L'obscurité environnante se déchire, s'éclaire, for oboe, violin and cello (2017) – 11′ – [op.30]
L'obscurité environnante se déchire, s'éclaire
instrumentation: oboe, violin, cello
duration: 11′
Written for Ensemble Recherche
first performance: 1/12/2017, Haus der Musik, Stuttgart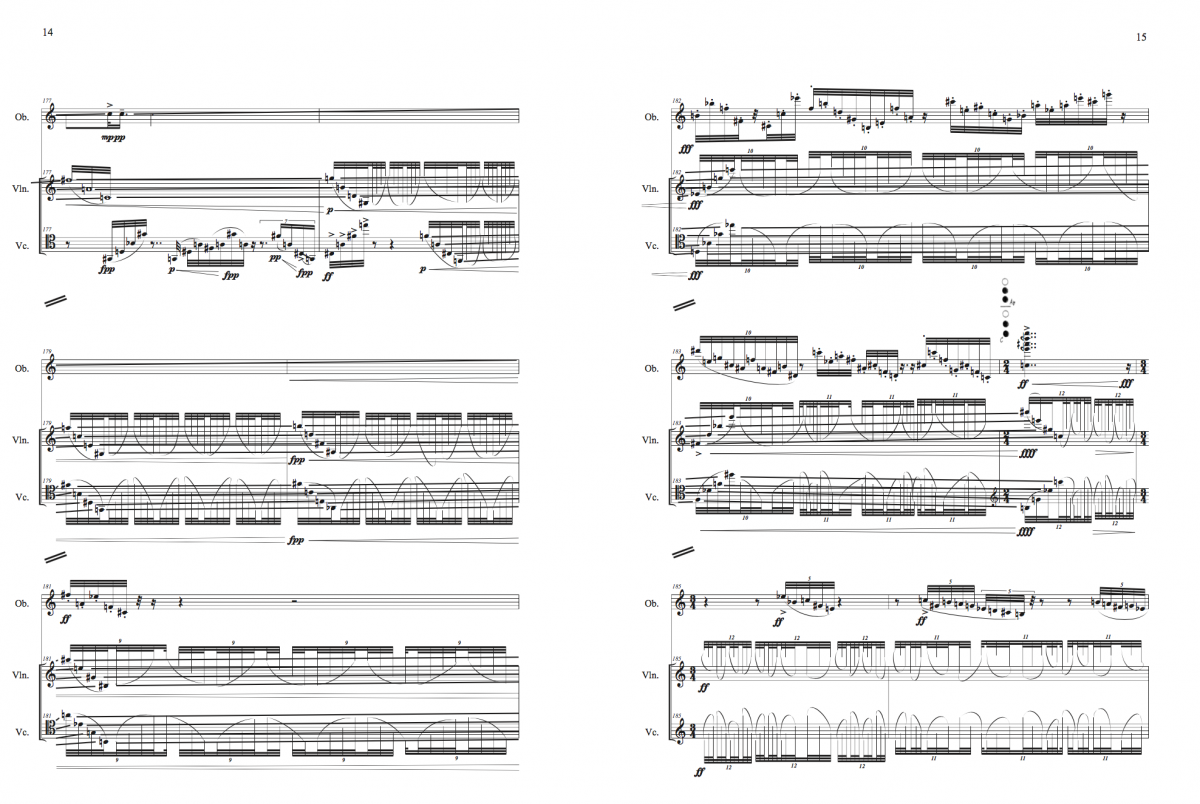 [it] Il brano gioca con l'idea del divenire, ne fa il fulcro stesso dell'immaginazione compositiva. Connessioni, contrasti, consequenzialità (virtuale, completamente immaginata), caratterizzano il brano. Si tratta di creare un campione di tempo che passa. La mia musica è caratterizzata da questa idea del frammento di tempo. Una traccia, una luce su un aspetto della durata. L'obbiettivo è quello di creare una pura transizione, un puro passaggio. La composizione compone questa transizione. Si compone e si scompone trasformando le cose in quelle seguenti . La dimensione del senso, della comprensione del divenire è al centro di questo gioco. Il prima e il dopo sono ipotesi che fanno rifletter. Si tratta di una sorta di "traveling", nel quale i mondi transitano da uno all'altro.
[fr] La pièce joue avec l'idée de devenir, ce qui en fait le cœur même de l'imagination compositionnelle. Connexions, contrastes, conséquentialité (virtuelle, complètement imaginée), caractérisent la pièce. Il s'agit de créer un échantillon du temps qui passe. Ma musique se caractérise par cette idée du fragment de temps. Une piste, une lumière sur un aspect de la durée. Le but est de créer une transition pure, un passage pur. La composition compose cette transition. Il est composé en transformant les choses en les transformant en les suivantes. La dimension du sens, de la compréhension du devenir est au centre de ce jeu. L'avant et l'après sont des hypothèses qui vont nous faire réfléchir. C'est une sorte de "voyage", où les mondes passent de l'un à l'autre.
[en] The piece plays with the idea of becoming, making it the very heart of the compositional imagination. Connections, contrasts, consequentiality (virtual, completely imagined), characterize the piece. It is a matter of creating a sample of time that passes. My music is characterized by this idea of the fragment of time. A track, a light on an aspect of duration. The goal is to create a pure transition, a pure passage. The composition composes this transition. It is composed by transforming things into the following ones. The dimension of sense, of understanding of becoming is at the centre of this game. The before and after are hypotheses that will make us reflect. It is a sort of "traveling", in which the worlds pass from one to another.